When you're running a brick-and-mortar store, there are a lot of moving parts to manage and, especially during a busy season here in Florida, it can feel overwhelming. You can do a lot to ease your mind by hiring security guards! Security guards will deter shoplifters with their presence alone, saving the company money in lost merchandise. They'll also help to deter rowdy customers that can cause a scene and disturb the other customers in the store. Not having to worry about the security of your store will free you up to do something only you can do – run your business! With all of these benefits, it's clear to see how hiring professional security guards can help take your business to the next level.
---
On-site security guards will deter shoplifters, saving your company money.
Without security guards on the premise, your brick-and-mortar store can look like a smorgasbord of opportunity to shoplifters. If left unchecked, these individuals will pocket whatever they can find and sneak it out of the store with no intention of paying. When you have security guards on-site, it will be much more difficult for shoplifters to steal merchandise without being caught, and they'll often prefer to strike somewhere that has been left unguarded. Not only will this ease your mind and keep merchandise available to paying customers, but with shoplifters deterred by security, your company will save money on replacing lost merchandise.
---
Professional security guards can deter rowdy customers and deescalate situations.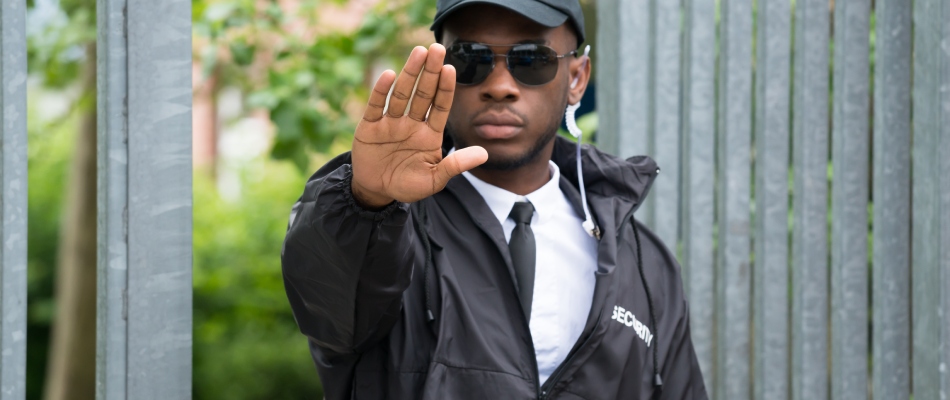 Unfortunately, with in-person shopping, there are bound to be incidents involving rowdy customers. However, the presence of security guards will help avoid these instances, making people more likely to calm down or settle matters elsewhere. You'll also have highly trained individuals at the ready for any amount of ruckus that does come your way rather than a store associate or customer trying to insert themselves into an unsafe situation. Professional security guards have expert training on how to deescalate situations and prevent belligerent individuals from causing a scene, protecting the rest of your customers and the reputation of your business.
---
Hiring professional security guards will free you up to focus on your business.
With your business protected by professional security guards, your time will be freed up to do what you do best – running your business! You won't need to worry about shoplifters running amok or raucous customers disturbing the flow of business when you know you have trained experts on the job. Having these duties delegated to capable hands will allow you to focus on where else your business needs you, whether that's training employees, building positive relationships with customers, managing shop inventory, or any of the other responsibilities that need your apt attention. And when situations do arise that need security to take action, you can be confident that it will be handled quickly, efficiently, and effectively by the professionals you hired!
Trained security guards can help properly communicate the details of events to local police, saving you time.
---
Need to ease your mind? Call us today to hear more about our professional security guards!
At Bales Security, we take our responsibility of protecting brick and mortar stores and customers with the utmost seriousness. When we're hired, we're beyond committed to providing the best security solutions through apt training, preparation, and an unparalleled work ethic. Our team members are highly trained and will arrive at your business every day, on time, alert, and ready to act when needed. We ensure that each of our guards is performing to above-and-beyond standards with our attentive management team that is actively involved in ongoing training, on-site inspections, and more. These services are available to commercial and residential properties in Tampa, FL and surrounding cities like St. Pete and Clearwater. Get in touch with our office by calling (813) 314-9101 today to hear more about how our professional security guards can help ease your mind!